Prom season is here, and we couldn't be more excited for the fabulous designs trending for this year's dresses. From off-the-shoulder to sparkly sequin, this year's gowns are all about making a statement and having fun! At your prom this spring, let your true colors shine in a dress that shows off your personality. Finding the perfect ensemble can be daunting with all the choices available. Lucky for you, we've paired the season's biggest trends with their matching personality type. Now, choosing a dress is easier than ever. Once you have the perfect look, you'll be ready to dance the night away!
The High-Low for the Daring Traditionalist
The hi-low prom dress is perfect for those girls who want to keep their look classy and traditional while mixing it up at the same time. From beaded designs, to elegant chiffon, it's easy to find a high-low dress in the print and fabric to match your prom theme and personality.
This beautiful dress from Prom Girlfeatures a subtle high-low hem while also featuring another big trend: bold print. And bonus, it has pockets!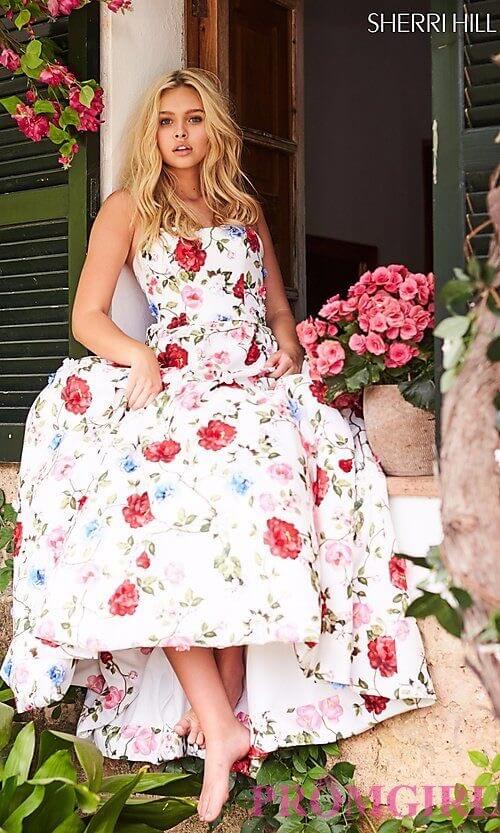 Image Source: Prom Girl
Choose a higher cut to make the high-low look even more dramatic and fun. With this deep-V-neck dress with ruffled skirt from Prom Girl, you are sure to make a serious statement.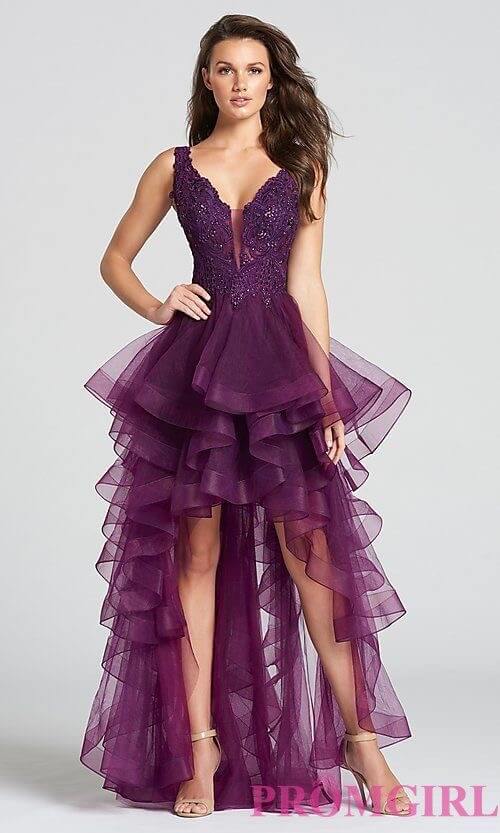 Image Source: Prom Girl
Off-the-Shoulder for the Retro Reveler
This 80's inspired trend has taken over wardrobes as fashion gives a big nod to all things old-school. From bold colors, velvet dresses, and ruffled blouses, eighties glam has made its way on the runwaysand into your favorite boutiques. Why would prom be any different? The floral print of this dress is a bonus trend and adds to the playfulness of the off-the-shoulder design. This floral shantung tiered mermaid dressmeets the mark for the retro reveler and guarantees your prom night will be one to remember!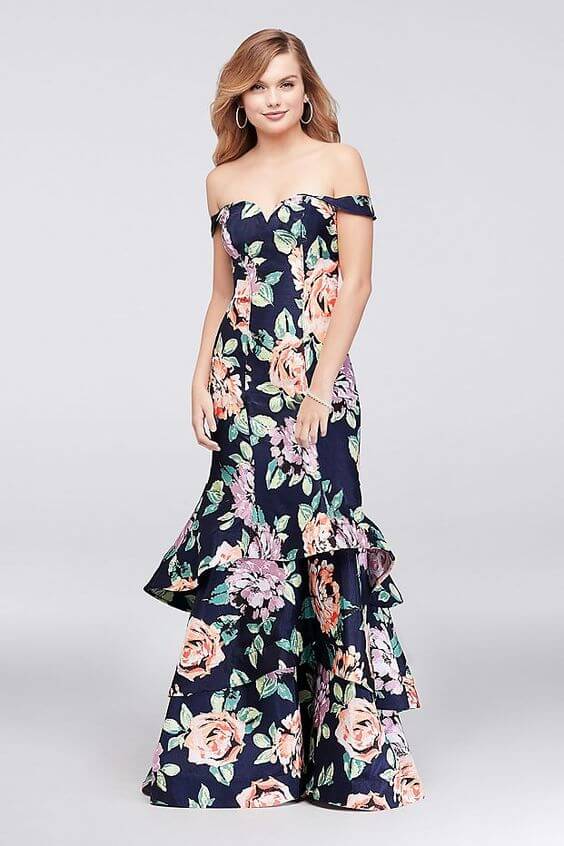 Image credit: David's Bridal
Sequin for the Girl Who Loves to Shine
With sequins and sparkle, you can't help but shine on the dance floor! These dresses are made to be seen and you'll stand out in a good way with this throw-back party dress. Keep your accessories simple and let your gown do the talking. This all-over sequin sheath gownwill be sure to dazzle!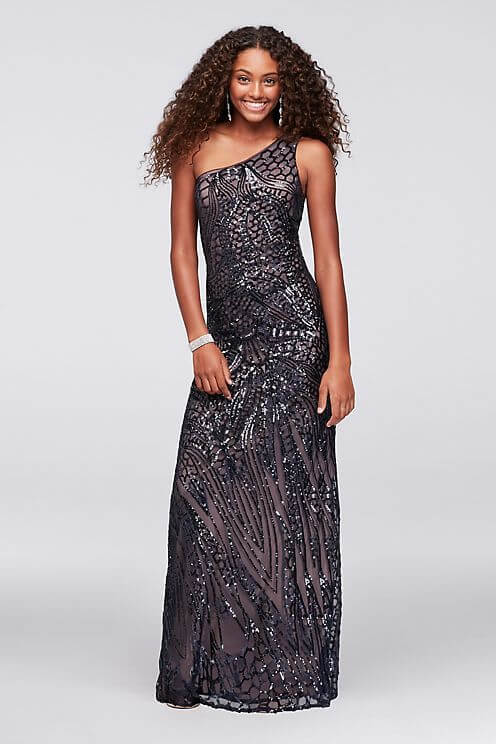 Image credit: David's Bridal
Bold Prints for the Fearless Feminine
Get girly with bold floral prints. You'll be sure to turn heads and turn circles on the dance floor with these gorgeous designs. This slit skirt floral chiffon a-line dress reveals your inner goddess and playful side. While this floral satin ball gownwill bring out the beauty in you and accentuate your shoulders. Simple jewelry and rosy shades of makeup are all that is needed to complete the look with these beautifully bold dresses.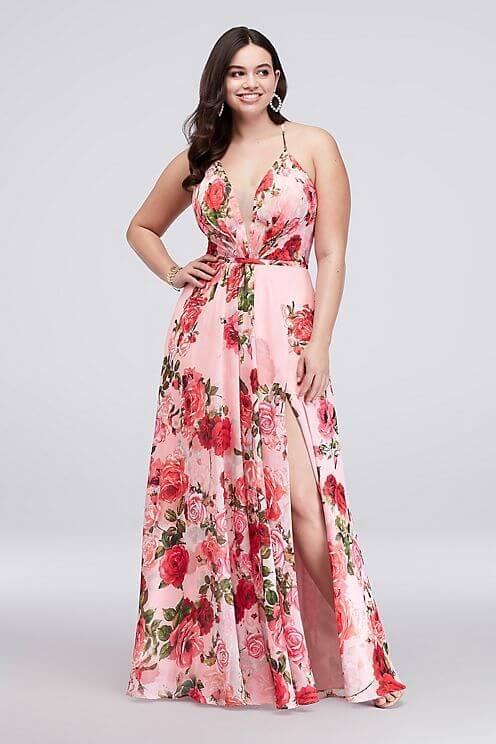 Image credit: David's Bridal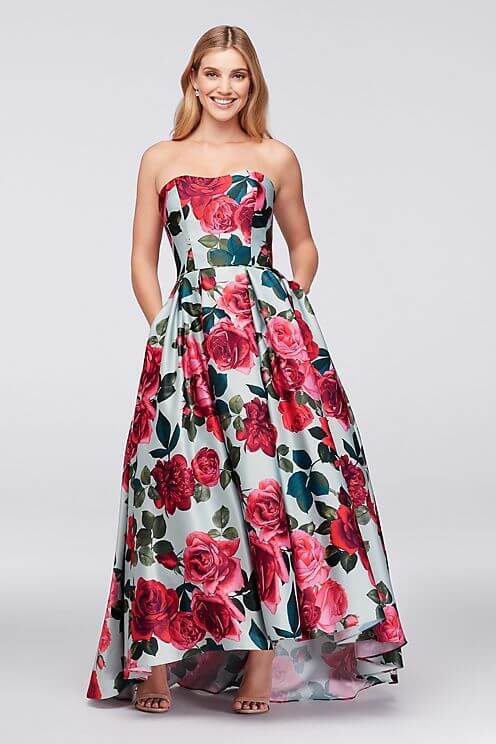 Image credit: David's Bridal
Two-Piece Gown for the Fashion Rebel
The crop-top and high-waist-skirt pairing of these dresses puts a fashionable twist on the traditional ball gown. This style is all over prom dress sites and for good reason. They are versatile, with the ability to be playful or elegant, and appeals to your rebellious side. A jeweled bodice and full satin skirtmake this dress completely sophisticated. Add a tear drop earrings and you're ready to rival even the most experienced red-carpet starlet. Plus, the two-piece style bares just enough torso to take the look from stuffy and traditional to fun and daring. You rebel.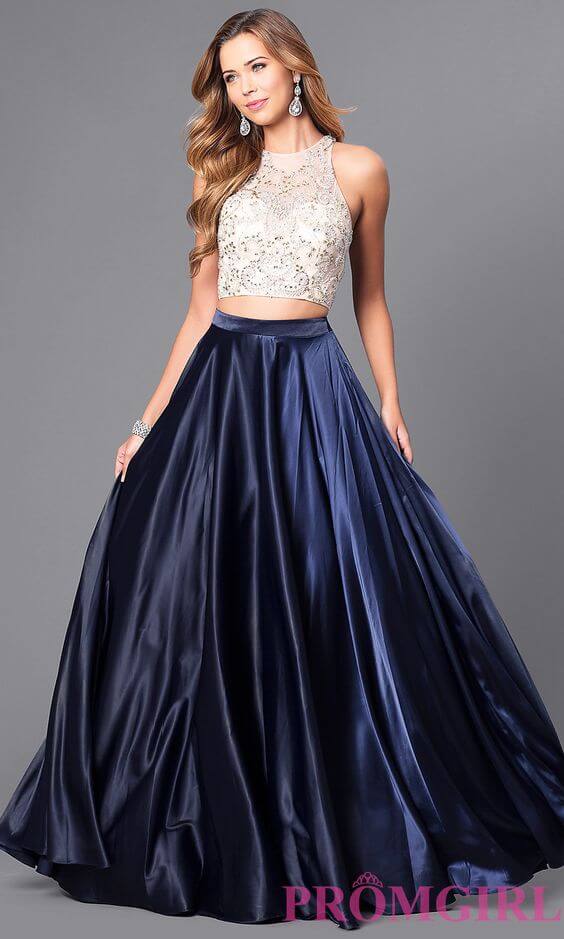 Image credit: Prom Girl
Step-up the drama with this sparkling beaded bodice two-piece dress with side slit. Available in dazzling colors like royal blue and gold, you'll shine brighter than the spot light on the dance floor.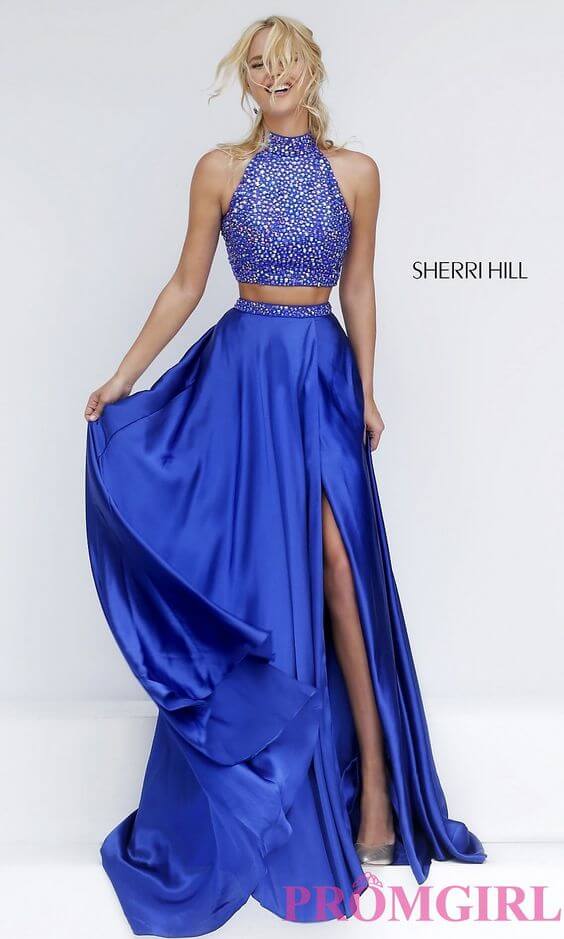 Image credit: Prom Girl
Blush Tones for the Elegant Classic
Let your natural beauty wow your prom date and be the envy of all your friends with these stunning blush-toned dresses. Like a bouquet of wild roses, you don't require the fuss and flare of statement pieces. You prefer your classic beauty do all the talking, like this floral embroidered pleated mesh a-line gown.Keep your hair down with some loose waves and use blush-tones in your makeup to make this understated ensemble simply stunning.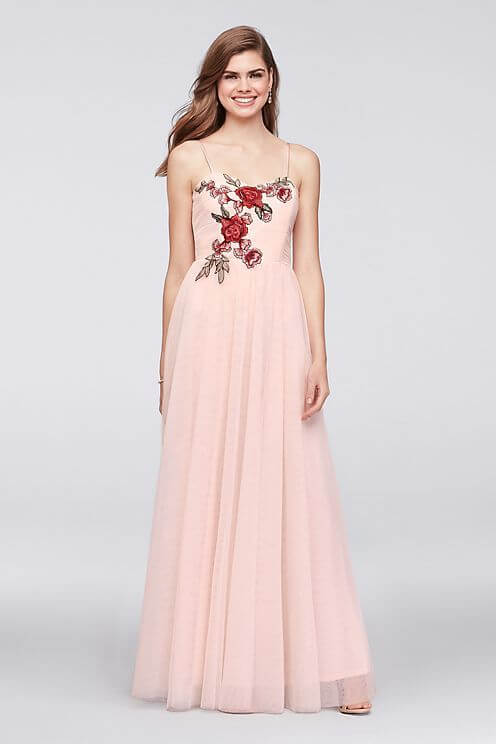 Image credit: David's Bridal
Strappy details for the Simple Sophisticate
Clean lines and simple design make these dresses unpretentious while captivating. With a sleek contoured fit, your no-fuss and elegant personality will be the star on your prom night. Dress up the look with sparkly jewelry and bolder lip. The perfect strap-detailed dress is this Faviana V-neck evening dress. From a variety of colors like navy and black, and even a show-stopping red, you can match your personality and prom theme.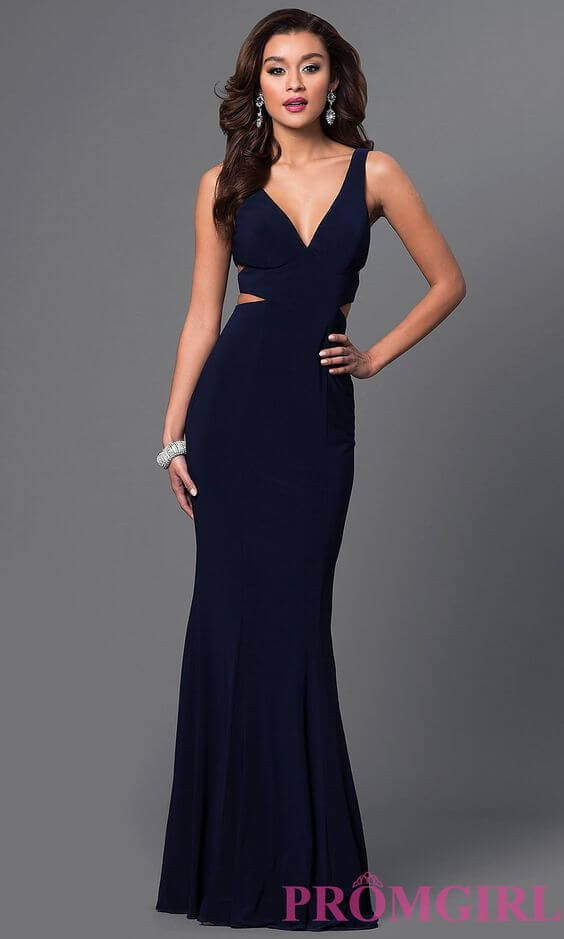 Image credit: Prom Girl
 Prom Hacks
Getting ready for your big day can be overwhelming! Along with finding the perfect dress, you should plan your hair makeup, and nails. This video from @missmikaylag is full of advice and prom hacks to get you glam-ready for your big night!
Don't forget your tailor!
You've spent your time choosing the dress that fits your personality now make sure it fits your body perfectly. Tailoring is a must for prom preparation, as we learned last month for our Spring tailoring musts. When your gown is too long or fits too loose in areas, your look will go from glamorous to frumpy. At All Alterations, we can handle all of your alterations needs and get your dress to fit perfectly to your frame. Follow these simple tailoring tips to get the most out of your prom dress:
Budget for alterations.When shopping, make sure you factor alterations into your budget. A custom, tailored fit will make you look far better than spending extra money on a more expensive dress.
Allow enough time before prom to get your alterations done.The amount of time you need will vary depending on how complicated your alteration. A good rule of thumb is to start a month before Prom night. Give us a call and we can give you an estimated timeline for your alteration needs!
Opt for too big over too small.When you are in between sizes, choose the sizing that is a little too big. Bringing a dress in is far easier than letting it out. Your seamstress will thank you!
Bring your shoes.When you go in for your fitting, bring the shoes you plan to wear with you. Not only will this make sure your tailor finds the perfect length for your gown, but also the perfect style. A few finishing touches by your tailor will work wonders at making your whole ensemble come together.
Bring your undergarments.Specifically, bring the bra you will be wearing with your dress to the fitting. If your dress needs to be brought in around your bust, you will want to make sure the sizing is accurate. If you decide on a different bra after your fitting, say, if you opt for one with different coverage or padding, your dress may fit differently. In general, bring everything to your fitting that you will be wearing with your dress on prom night, to your fitting!
Set up your appointment with All Alterations!Since 2010, we have been providing nothing but the BEST! Our highest priority is making you look amazing. Don't wait until it's too late and give us a call! Our prom dress alterations services include:

Creating bustles
Hem shorten/lengthen – plain/vented
Hem partial pleat or full
Full pleat
Sleeves, shorten/lengthen, plain/vented
Taper sleeves
Waist in/out remove waistband
Waist in/out through sides
Waist in/out and fabric
Sides in/out with pockets
Sides in/out without pockets
Prom night is an unforgettable event and with our tips and alteration hacks, you will be the star of the night! This is your night to shine, so make sure your dress fits your amazing personality and have some fun! Whether you opt for bold floral prints, dazzling sequin, or girly off-the-shoulder, be true to who you are and invest in looking your best. And don't forget your seamstress! Give All Alterations today to get you looking your best for prom night!